The Chili Cookoff at Henderson Harley Davidson was a HUGE success for everybody involved. As for me, I had a chance to make chili from scratch for the first time, and did pretty well. I lucked out by finding a great recipe online (from imgur user MandelbrotFractalBear) which I adapted slightly for the competition. One nice Harley Owners Group member came up afterwards to give me a handshake and said "That was the best damn chili I ever had." So it turned out well!  Recipe below!
Here's the recipe I used to make the Texas Red all meat chili for this year's Henderson Harley Davidson Chili Cookoff.
Ingredients:
5 lbs (one log) ground beef (mesquite smoked or mix in liquid smoke)
1 package beef sausage (kielbasa)
1 Large yellow onion
2 jalapenos
1 bulb garlic
6 dried guajillo peppers
20 oz beef stock
2 dark beers
4 oz tomato paste
1 cup flour
1 cup vegetable oil
2 tbsp brown sugar
Chili Seasoning Mix:
1 cup chili powder
2 tbsp smoked salt (or sea salt if you must)
3 tbsp garlic powder
3 tbsp onion powder
4 tbsp paprika
5 tbsp cumin
3 tbsp cayenne
2 tbsp ground black pepper
2 tbsp ground mustard
The Mirepoix
Mirepoix is your flavor base. This chili uses the guajillo peppers, the onion, the garlic, the jalapenos, and the beef sausage as the base.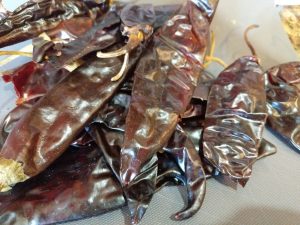 Cut off the top of the guajillo peppers and dispose of the seeds and the white-ish connective tissue inside. Rip into small pieces and drop into about 2 cups of warm water to help them soften.
Cut off the top of the jalapenos and slice them in half. Remove the seeds and the white connective tissue. Sear the jalapenos on a hot skillet, or by holding directly over the flame on your stove till they get nice and charred on the outside. When you are happy with how charred they are, chop them up into chunks.
Pull out your smoked beef sausage and give it a rough chop.
Rough chop your onion and your garlic cloves.
remove the guajillo peppers from the water (KEEP THE WATER) and add all the mirepoix ingredients to a food processor or blender. Blend until it becomes a paste. This is your flavor paste!
The Roux
Add oil and flour to a pan on medium high heat. Stir constantly. It will bubble and smoke a bit. Keep whisking, keep scraping the bottom and sides. The roux should begin to darken and will eventually become a chocolate brown. Takes about 5 – 7 minutes for light brown, and an extra few minutes for dark brown.
Transfer your roux to your chili pot and put the pot over medium heat.
Add your mirepoix flavor paste to the roux and keep it all stirred in. This will help cook the vegetables and meat in the paste. Keep stirring until the mixture is fragrant and sizzling.
Liquids
Add your beef broth and your beer. The roux will probably fight you but just keep stirring till it's all incorporated and the mud mixture has got hot again.
Lower temperature to medium low and add the brown sugar.
Meat time
Take about 1/4 of your seasoning mix and mix it into the uncooked meat. If you are using liquid smoke, add it now. Using a separate skillet on medium-high heat, cook the meat in small batches. You're looking to sear the outside of the meat, not fully cook (unless you REALLY want to).  That crispy, toasted sear on the meat adds a whole new flavor level. As each small batch gets cooked to your satisfaction, add it to the pot, where it can finish cooking in the mud.
Cook 4 oz of tomato paste in the left over fat & oils in the meat skillet. You want to get the paste browned up a bit to concentrate and deepen flavors.
Add about half of your remaining spice mix to the chili pot along with your tomato paste and stir it all up. Cover and return to boiling, stirring occasionally to prevent scorching on the bottom of the pot.
If the mix is too thick, use the leftover Guajillo chili water to help even it out a bit.
Taste and add more seasoning if desired.
Turn off heat and let it sit covered for at least an hour, but preferably overnight. Everybody knows chili tastes better the next day.