A couple years ago, an amazing charity called BikerDown expanded from Colorado to Nevada. They were looking for a sponsor for a really great event: Training riders how to administer emergency aid at the scene of an accident. What a great idea! Sponsoring this event gave us a chance to get to know the charity and its founder, Laurie. What we learned then and what we've seen since then has led us to conclude that BikerDown is the BEST injured rider charity in Nevada, and probably the entire United States.
BikerDown began when Laurie saw several friends go down in 2011. She saw firsthand how unprepared people were for an accident. First, on the scene, there were no first aid kits. Second, there was no insurance to cover accidents like this.  Third, she saw them facing the terrible challenge of recovering from injuries while dealing with the burden of unpaid expenses, lost wages, and ever-increasing debt. Surely there was some way that people could help by doing more than attending yet another fundraiser for fallen riders.
So here's what BikerDown does:
Rider Training and Preparedness
Knowledge saves lives. Do you know what to do if you're riding with a group and somebody goes down? Can somebody in your group render first aid? Do you know who the emergency contacts are for this person?
BikerDown holds regular training for ANYBODY who wants to learn the essentials of roadside emergency care. This training often includes a free trauma kit which your group can always have on hand on rides, plus training on how to use it properly.
Rider Accident Insurance
Many riders don't know much about insurance. If you get in a wreck are you covered? What if the other driver leaves the scene? What if the other driver has NO insurance? What if the wreck is your fault? BikerDown not only educates riders on these issues, but also provides access to motorcycle accident insurance products as an optional part of membership. This accident coverage doesn't cost much, but it can mean the difference between paying rent for a year and being evicted while you're healing.
No Overhead on Fundraisers
We've all seen it before:  A "Go Fund Me" where somebody is requesting online payments for a fallen biker or his family. The problem? These online payment programs always skim a large percent right off the top. Plus, you never really know who is getting the money.
With BikerDown fundraisers, there is ZERO overhead deducted from your donation.  100% of your donation actually goes to the victim. And, because BikerDown is a registered 501(c)(3) organization, transparency is required. You KNOW the money isn't being pocketed by some relative who thinks they need the money more than the victim does.
Local Presence
BikerDown has had a presence in Las Vegas for a few years now, but has made a special effort to find a local, motorcycle community member who can serve as the local executive director. The director can be there in person when people need support most. That's a major help.
Our Relationship With Biker Down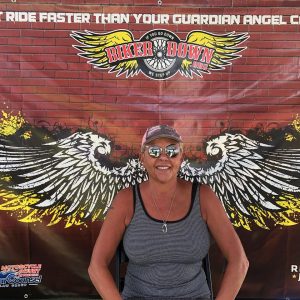 BikerDown is fully independent. While many law firms (including us) choose to donate and even co-brand with Biker Down, these law firms have ZERO ownership and have no ultimate decision-making authority. This means we have no say on where the money goes, and we like it that way.
In other words, BikerDown is free to distribute funds and resources in the ways that are best for the biker community. For the law firms who support BikerDown, we recognize that means that our donations will often be used to help people and families who work with our competitors, and that's exactly how it should be. BikerDown being independent means we can stay honest and ethical.
To foster this independence, Biker Down is careful to make sure that any law firm donors are only allowed to co-sponsor events and marketing in a single state. Why is this smart? It means no single law firm or donor ever has excessive financial influence over the charity.
Independence is what riding a motorcycle is all about, and it's also what makes Biker Down truly stand out among charities.
It's Easy To Love Biker Down.
We are proud to support such a great organization. We hope you'll think of Biker Down with your charitable giving, and, of course, the next time somebody you know goes down.
To become a Biker Down member, go here: http://bikerdown.org/join-us/
To support Biker Down with your Amazon shopping, use this Amazon Smile Link. A small portion of everything you spend will be sent to Biker Down.   https://smile.amazon.com/ch/45-3800046
To make a direct donation to Biker Down, use the following link: https://bikerdown.z2systems.com/np/clients/bikerdown/donation.jsp?campaign=2
If you or a friend has been in an accident and need support, go here: http://bikerdown.org/help-request/