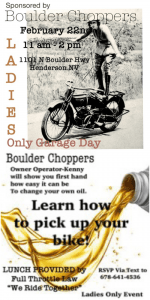 Come to Boulder Chopper for an all ladies event. You will get hands on with Owner Operator Kenny to learn how to change your own oil. He will cover a very basic but very necessary maintenance item that you can then perform yourself. We know that many ladies would love to learn how to "wrench" on your bikes. And Kenny is patient and loves teaching.
We will break for lunch and socializing and then dive in to a demonstration on How to Pick Your Bike Up safely all by yourself. A bike will be on site that you can cheer each other on and just get in there! An all ladies environment can often be less intimidating for chicks. Everyone will have a chance to try it while your wind sisters cheer you on.
Event sponsored by Boulder Chopper and Full Throttle Law.
Everyone attending will also be entered into a Sweepstakes Drawing for a trip to the 80th anniversary of Sturgis for four. The Cabin has been reserved at Full Throttle Saloon and includes four wrist bands for all of the events during those dates. Valued at over $3500!
RSVP via text to Dazzlin at 678-641-4536.
Location
Boulder Choppers 1101 N Boulder Hwy, Henderson NV 89011
Schedule

Guests

Attendance

Shop

Forecast

Comments
Weather data is currently not available for this location
Weather Report
Today stec_replace_today_date
stec_replace_current_summary_text
stec_replace_current_temp °stec_replace_current_temp_units
Wind stec_replace_current_wind stec_replace_current_wind_units stec_replace_current_wind_direction
Humidity stec_replace_current_humidity %
Feels like stec_replace_current_feels_like °stec_replace_current_temp_units
Powered by openweathermap.org